Security Grilles
Timbers Kovar's security grilles provide an array of attractive solutions for a spectrum of retail, commercial and industrial applications. Our side-folding grilles boast the shortest stacking dimension of any grille available today, and feature a handsome clear anodized finish (standard) in a variety of patterns and optional colors. We also offer a complete line of upward-coiling grilles. Constructed of aluminum, stainless or galvanized steel — with optional electric motor — these grilles are designed for durability and easy operation. Our comprehensive line of security grilles affords both reliability and peace of mind.
Side-Folding Full Enclosure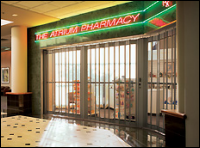 Commercial Dock and Door's side- folding full closure grilles are ideal for applications that require a secure barrier against theft and debris, such as retail applications in malls and airport concourses. The Full Closure side folding grille product line includes four panel materials: performated steel, clear polycarbonate, tempered glass and aluminum. All four models are available in both standard-body and wide-body versions.
Side-Folding Open Air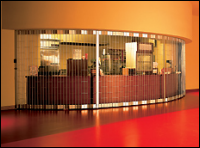 When security is a priority, but you want to maximize air circulation, light infiltration and visual access to interior spaces, the 681 / 682 / 683 / 684 / 685 Series is an ideal choice. Short on the space required for installation, but long on handsome good looks, these grilles secure premises and guard against theft and debri with superior compactness and nearly endless design possibilities.
Upward Coiling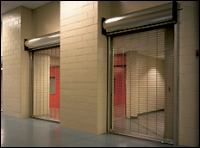 Commercial Dock and Door's upward- coiling grilles (670 Series) provide an attractive yet functional means to secure areas where public access must be restricted. These ruggedly-constructed grilles provide security without sacrificing visual access, air circulation or light infiltration. Available in aluminum, galvanized steel, or stainless steel curtain — and with an optional electric operator — our rolling grilles are well-suited to most any environment and application.