Dock Lift Equipment Cleveland
Serco LoadWarrior Series Dock Lift Products provide innovative solutions to the unique challenges associated with moving products, making your dock 100% accessible.
LoadWarrior™ Hydraulic Dock Lifts
Dock Lifts can accommodate a wide variety of truck styles; from 20" step vans or pick-up trucks to high cube vans, standard semi-trailers and 60" high stake bed trailers. Serco LoadWarrior Dock Lifts can be pit- or surface-mounted inside the building or in front of the loading dock.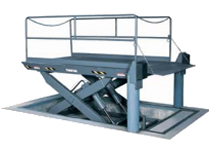 LoadWarrior™ Rail Lifts
Serco LoadWarrior Rail Lifts are a cost-efficient, powered loading dock solution when a surface-mounted lift is required. Serco LoadWarrior Rail Lifts are completely self-contained, easy to relocate and are simple, fast and inexpensive to install.
LoadWarrior™ Level-Lift
The Serco LoadWarrior Level-Lift combines the speed and efficiency of a hydraulic dock leveler with the versatility of a scissors lift, eliminating the need for dedicated docks equipped with expensive concrete ramps or dock lifts. The LoadWarrior Level-Lift can service almost any style of trailer or van from grade level to 59" above grade.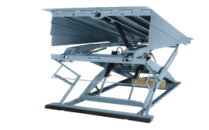 LoadWarrior™ Truck Leveler
Longer and lower trailers present new challenges for today's loading dock operators. Serco LoadWarrior Truck Levelers are used in applications where a dock is too high or low to service trailers with coventional dock levelers. LoadWarrior Truck Levelers safely raise or lower the trailer to match the height of the loading dock. This allows for safer loading operations, especially in wet, icy or inclement weather conditions.