Scissor Lifts
Serco's full line of LoadWarrior™ hydraulic, air and mechanical lift tables, turntables and tilters reduce back-related injuries while increasing overall productivity by making products and materials more accessible to the workforce. Serco LoadWarrior in-plant products automate simple tasks.
LoadWarrior™ Scissors Lift Table
Serco LoadWarrior Scissors Lift Tables provide versatile, ergonomic and safe lifting solutions for virtually any material-handling application. By bringing the work to the worker, LoadWarrior lift tables not only increase a factory's productivity, they reduce worker fatigue and drastically decrease the risk of serious back injuries to workers.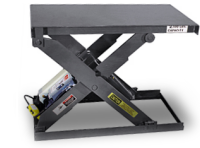 Features
Solid steel legs with stiffener bars for extra strength and support
Polyethylene tank prevents condensation, provides easy check of oil level
High-pressure cylinders with safety velocity fuses to prevent uncontrolled descent
Pre-wired NEMA-rated controls
High-strength roller pins with snap rings
Hardened steel rollers
High-strength steel polished axle pins
UL-approved control components
Meets or exceeds ANSI MH29.1 standard for industrial scissor lifts
LoadWarrior™ Double Scissors Lift Tables
Serco LoadWarrior Double Scissors Lifts provide operators with a high-traveling, adjustable work platform without taking up valuable floor space. In fact, LoadWarrior Double Scissors Lifts utilize the same platform size as our standard scissor lifts.
Features
Pre-wired power unit with UL approved control components
Internally mounted 5 hp power unit
Self-lubricating composite bearings
Solid steel legs with stiffener bars
Turned, ground, polished and hard-chromed axle pins
Double-wire braided hydraulic hoses
Velocity fuses on all cylinders to prevent uncontrolled descent
Polyethylene reservoir allows easy visual check of oil level
Maintenance locks built into base frame
Meets or exceeds ANSI MH29.1 standard for industrial scissor lifts