Rolling Fire Door Drop Testing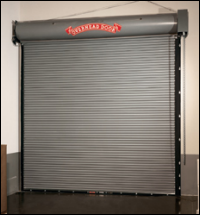 Timbers-Kovar Co. has trained and certified fire door technicians to do fire door testing according to NFPA 80 regulations.  The National Fire Protection Association (NFPA) standards require building owners  to have their rolling and Sliding fire doors inspected and tested annually, and to maintain written documentation of such inspections.
Timbers-Kovar's Fire Door Drop Testing (FDDT) Program helps building Owners and managers stay in compliance with the most recent NFPA-80 standards, while maintaining the Proper operation and full closure of your facility's rolling and sliding fire doors.
Call us today to set up an appointment to complete your rolling fire door drop test.  We have certified fire door drop test technicians.  We do drop tests in the Cleveland metro area, Northeast Ohio, and in Western Pennsylvania.
Fire Door Drop Testing Services
The inspection, testing and certification of your facility's rolling and sliding fire doors to meet NFPA-80 Section 15-2.4.3-5 requirements by factory trained and certified technicians.
A written Fire Door Inspection and Drop Test Report, which documents each FDDT service call For your facility's records along with recommendations for any needed repairs or product replacement. See the following pages for additional detail on inspection and drop test guidelines.
A "Fire Door Certification" tag is attached to each tested fire door indicating the date the door was inspected, tested and certified.
You will be contacted on an annual basis to schedule future FDDT service appointments to help keep your fire doors in compliance with NFPA-80 section 15-2.4.3-5 and in good working order.
Certified Inspection And Drop Test Guidelines
Our fire door testing services include visual inspection, operational inspection, and a drop test.  The visual inspection will check for proper installation as well as any damaged, incorrect or missing parts.  We will also check ancillary equipment such as smoke detectors, release devices and control panels. The operational inspection includes roll door up and down in normal operation to check for spring tension and free movement of curtain in guides.
The drop test will be completed per manufacturer's written instructions. Drop test should for automatic closing of the curtain at an average speed not less that 6" per second, nor more than 24" per second, and full closure of the curtain with the bottom bar resting on the sill or floor.