Loading Dock Security Gates
We carry barrier safety gates for all of your commercial dock needs. Protect your employees with fall protection at the loading dock.
Our loading dock safety gates feature:
42" top rail meets OSHA 1910.23 standard for withstanding
200 lbs. of force from any direction
High visibility yellow with safety striping on the rails
Safety latch mechanism securely keeps gate closed and can
be locked-out with padlock
Easy operation; no electrical requirements
Available in 6', 7', 8', 9' and 10' sizes
Loading Dock Impact Barrier
The Dock Impact Barrier can reduce the occurrence of accidents due to fork
lift, pallet jack or pedestrians falling off the dock when the door is open.
Prevent damage to to the loading dock, equipment, and personnel with these features:
Stops a 10,000 lb. gross load at 4 mph
42" top rail meets OSHA 1910.23 standard for withstanding
200 lbs. of force from any direction
High visibility yellow
Protects overhead doors & tracks
Sizes to fit: 6' Door, 7' Door, 8' Door, 9' Door and 10' Door
Sentry-Rail™
The best protection you can get for your most valuable assets your facility, your equipment and your personnel. Sentry Rail's in-line mounting bracket guarantees protection by distributing impact energy over the entire system. Feature-packed with many options available.
Trak-Sentry™
Put a stop to costly overhead door repairs! Our Trak Sentry system provides maximum protection for your overhead door tracks without interfering with normal door operation.
Bollards
Heavy-duty bollards for all applications, including Pipe Bollards and Bollard Covers.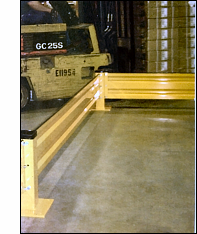 Equipment Protection
Our tough protectors provide excellent shielding by absorbing and dissipating the impact from forklifts. Many sizes and styles available.
Door Savers
Stop repairing your expensive dock doors! Our door saving products eliminate the most common reasons for repairing overhead doors, lift truck impact.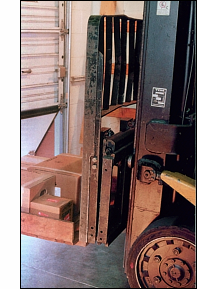 S.W.A.T.™ MODULE HELPS PROTECT LOADING DOCK PERSONNEL
FOR USE IN COMBINATION WITH A VEHICLE RESTRAINT AND DOCK LIGHT TO PROMOTE SAFETY
APS Resource today introduced its S.W.A.T.™ (Secondary Warning Alert Technology) module which adds an extra layer of protection for dock operations by visually alerting workers to use caution anytime there is a change in dock status.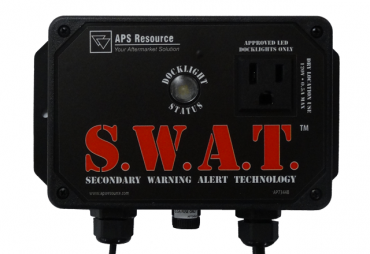 The first of its kind the material handling industry, the S.W.A.T. module is designed to work in combination with a dock's LED dock light and vehicle restraint. When the vehicle restraint indicates a change in dock status, the S.W.A.T. module flashes the interconnected dock light at a rate of 30 flashes per minute (fpm).
"The S.W.A.T. module is an extra step in providing complete safety for loading dock personnel." said Joe Graf, APS Resource Sales Manager.
Compact in design to minimize risk of damage, along with a polymer housing that resist corrosion, the S.W.A.T. module easily mounts on a loading dock wall next to the vehicle restraint control panel. Featuring its own LED status light to indicate receptacle output status, the S.W.A.T. module is ETL listed and is approved to work with the entire family of APS Resource LED dock lights.
For more information about APS Resource and to view the S.W.A.T. module in action, click on the following link: APS Resource S.W.A.T. module video, or go to apsresource.com/news-resources and click on "Videos".