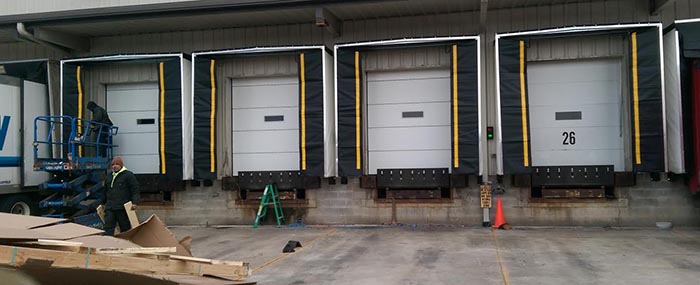 One of our recent customers is a distributor of soft drinks. Their dock doors were frequently damaged by trucks. It got to the point that they all needed to be replaced. They called on Timbers Kovar to help them come up with a solution to their dock door problems.
We were able to suggest a replacement with TKO doors. These dock doors are designed to provide a better seal around the opening. The are also designed to be impact doors. You can hit the door and be able to reset it without having to call a door service company. This will save them time and money. TKO doors are award winning doors and they are the standard for all food grade facilities.
The shelters shown in the pictures are also a special design. The problem that the customer had was the the trucks were backing into the dock at an off center angle and damaging the shelters that seal the truck to the facility. Our recommendation was a shelter that would not crush upon impact. This shelter collapses. The truck drive can see that they are not centered and reposition themselves correctly into the dock. The shelter resets itself and there is no damage.
Timbers Kovar is the leader in solutions for dock doors. We have the knowledge and the support that you need to fix the job right the first time. Call us today for any of your loading dock problems.