S.W.A.T.™ MODULE HELPS PROTECT LOADING DOCK PERSONNEL
FOR USE IN COMBINATION WITH A VEHICLE RESTRAINT AND DOCK LIGHT TO PROMOTE SAFETY
APS Resource today introduced its S.W.A.T.™ (Secondary Warning Alert Technology) module which adds an extra layer of protection for dock operations by visually alerting workers to use caution anytime there is a change in dock status.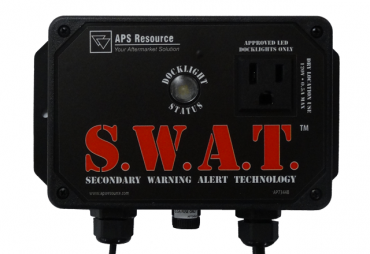 The first of its kind the material handling industry, the S.W.A.T. module is designed to work in combination with a dock's LED dock light and vehicle restraint. When the vehicle restraint indicates a change in dock status, the S.W.A.T. module flashes the interconnected dock light at a rate of 30 flashes per minute (fpm).
"The S.W.A.T. module is an extra step in providing complete safety for loading dock personnel." said Joe Graf, APS Resource Sales Manager.
Compact in design to minimize risk of damage, along with a polymer housing that resist corrosion, the S.W.A.T. module easily mounts on a loading dock wall next to the vehicle restraint control panel. Featuring its own LED status light to indicate receptacle output status, the S.W.A.T. module is ETL listed and is approved to work with the entire family of APS Resource LED dock lights.
For more information about APS Resource and to view the S.W.A.T. module in action, click on the following link: APS Resource S.W.A.T. module video, or go to apsresource.com/news-resources and click on "Videos".